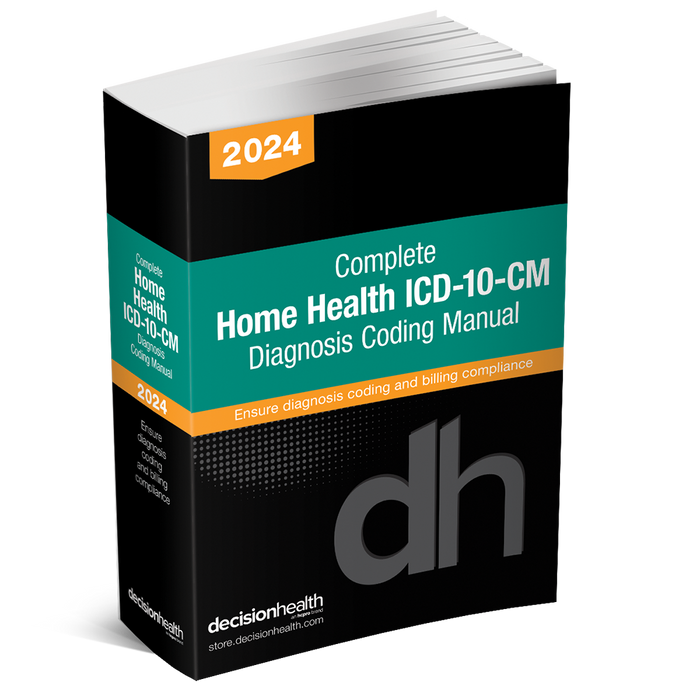 2024 Complete Home Health ICD-10-CM Diagnosis Coding Manual


Prepare for thousands of FY2024 code changes, more PDGM changes and annual coding guidance changes, that you will quickly need to understand in order to assign the correct codes and capture accurate reimbursement. To code claims accurately, you need a resource that is more than just the code set. You need a tool that will guide your code choices – DecisionHealth's Complete Home Health ICD-10-CM Diagnosis Coding Manual, 2024.
The Complete Home Health ICD-10-CM Diagnosis Coding Manual, 2024, is the only ICD-10 coding manual that's created specifically for home health coders. It contains guidance, tips, definitions and scenarios to help you accurately code your home health claims. You simply won't find a more all-inclusive and user-friendly ICD-10 code book for home health on the market.
DecisionHealth's Coding Manual includes a wide range of features to help ensure accurate coding and compliance, prevent denials and help your agency secure every reimbursement dollar earned. Plus, the 2024 edition includes features that will support your ongoing PDGM training needs.
Exclusive features:
NEW!

 FY2024 code updates that will impact home health coding, including new Parkinson's codes

Updated!

 

PDGM payment icons found in the Tabular

 

so you can quickly and easily identify key coding and reimbursement conventions tied to a specific code

Updated!

 

More than 1,000 tips

 

that include the latest Coding Clinic updates to guide you, raise red flags and help you code correctly to stay in compliance and gain accurate reimbursement

Updated!

 

More than 100 home health coding scenarios, including ones featuring

 

multiple comorbidities

 

that will help illustrate correct code choice in PDGM for your most complicated claims. Also included are COVID-19 scenarios, including how to code both suspected and confirmed cases

Updated!

 

Alerts on codes that are being denied

 

with information on how to properly assign them to avoid having the claim denied
ICD-10 guidelines embedded in the Tabular

 

at the code level for the most commonly-used home health codes so that you can quickly access the rules you'll need to code accurately
Illustrations and definitions throughout

 

to help you identify diseases and conditions to enhance coding and critical-thinking skills
Home health-specific narrative introductions, written in plain-English, at the start of each disease chapter that outline the key coding concepts you'll need to understand to ensure competency. Learn what is covered in each chapter, including sequencing issues, top home care diagnoses and case-mix information
BONUS: Pre-printed tabs

 

to make it easier to navigate the tabular chapters
Refund Policy
The following terms and conditions apply for merchandise that is not damaged, defective or a McBee shipping error:
Original order may not be older than three (3) months

To start a return, please email SarahBacon@McBeeassociates.com or dial McBee Customer Service at 610.964.9680. If the merchandise has not been returned within 60 days, the return authorization will be canceled and removed out of our system.

All return shipments must be shipped prepaid and clearly marked. The original packaging is best. 

Upon receipt and inspection of the returned merchandise, McBee will either issue a refund or exchange the merchandise as instructed.

Returns may be rejected due to the physical condition of the items received. 

If the product is defected or incorrect, please contact McBee Customer Service immediately at

 

610.964.9680

.