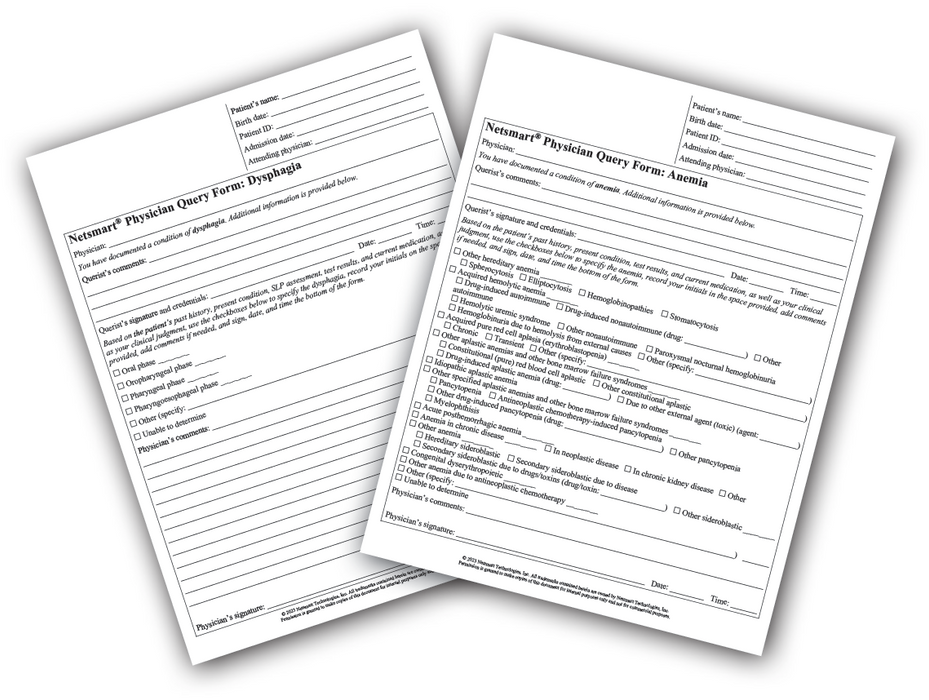 IRF: Physician Query Forms
Save

Liquid error (snippets/product-badge line 32): Computation results in '-Infinity'

%
The Physician Query Forms are designed to help ensure that each facility's physician documentation provides the detail specifically needed to support the most accurate codes recorded on the IRF-PAI and that this information not only validates the conditions being cared for, but also improves the facility's outcomes and financial performance.

Depending on your IRF's practices, coders, CDIs, and even PPS coordinators can use this robust package of forty-one forms to help your physicians provide the details required to support each patient's conditions to the highest possible degree of specificity.
With our Physician Query Forms, you can be sure that physician query guidelines are being followed, the questions are not leading, and your forms provide adequate space for a quick and accurate physician response that will the details needed to assign the most accurate code.
Why recreate the wheel? These query forms are available as PDF files you can use in your EMR.
Query forms
1. Anemia

22. Pain

2. Anemia, except hemolytic and aplastic

23. Paralysis of the vocal cords and larynx

3. Antibiotic therapy

24. Paralytic condition

4. Atherosclerosis

25. Pathological fraction

5. Body mass index

26. Pelvic fracture, acetabulum

6. Burns

27. Pelvic fracture, except acetabulum

7. Cellulitis

28. Pneumonia

8. Clarification of AKI acronym

29. Polyneuropathy / peripheral neuorpathy 

9. Clarification of dysphagia

30. Postoperative infection

10. Congestive Heart Failure

31. Pressure ulcer

11. Diabetes mellitus

32. Renal disease

12. Disc disorder

33. Respiratory failure

13. Dysphagia

34. Spinal stenosis

14. Encephalopathy

35. Spondylopathy

15. 

Femur fracture

36. Spondylosis

16. 

Hemiplegia / hemiparesis

37. Traumatic brain injury

17. 

Hip fracture

38. Traumatic spinal cord injury

18. Hypertension

39. Upper digestive system disorder

19. 

Liver disease

40. Urinary tract infection

20. L

ower digestive system disorder

41. Weakness

21. 

Low oxygen saturation levels
The Physician Query Forms are available as a single package for $350.
Please note: After purchasing, the download will begin automatically and can take several minutes. You will receive an email once your download is ready.