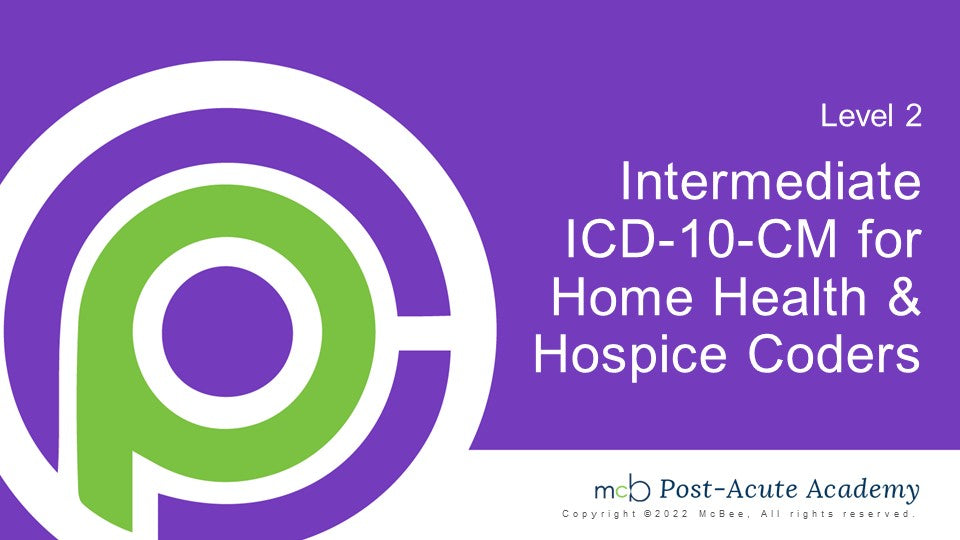 CodeProU | Level 2: Intermediate ICD-10-CM for Home Health & Hospice Coders
Save

Liquid error (snippets/product-badge line 32): Computation results in '-Infinity'

%
It's important you know this is not a generic ICD-10-CM training program! It's produced for those who need to attain an intermediate-level proficiency in ICD-10-CM coding in home health & hospice provider settings. The training provides specific emphasis on coding requirements in these settings, presenting numerous patient coding scenarios, coding exercises and highly effective quizzes.
The Level 2 ICD-10-CM for Home Health & Hospice addresses chapter-specifics in detail, leveraging the fundamentals of coding taught in the ICD-10-CM Level 1 training program while enhancing the depth of your coding knowledge and practice.
This course includes 17 lessons. Each lesson will include a handout, instructional videos and post quizzes. Once all lessons are completed, there will be a final exam to test your knowledge. At the end of the course, complete the evaluation to download your certificate. 
Certain Infectious & Parasitic Diseases (105 minutes)

Neoplasms (60 minutes)

Diseases of the Blood and Blood-forming Organs (30 minutes)

Endocrine, Nutritional and Metabolic Diseases (140 minutes)

Mental, Behavioral and Neurodevelopmental Disorders (45 minutes)

Diseases of the Nervous System (50 minutes)

Diseases of the Eye and Adnexa (45 minutes)

Diseases of the Ear and Mastoid Process (25 minutes)

Diseases of the Circulatory System (170 minutes)

Diseases of the Respiratory System (90 minutes)

Diseases of the Digestive System (25 minutes)

Diseases of the Skin and Subcutaneous Tissue (95 minutes)

Diseases of the Musculoskeletal System and Connective Tissue (45 minutes)

Diseases of the Genitourinary System (15 minutes)

Congenital Malformations, Deformations and Chromosomal Abnormalities (5 minutes)

Symptoms, Signs and Abnormal Clinical and Laboratory Findings (30 minutes)

Injury and Poisoning + External Causes of Morbidity (235 minutes)

Factors Influencing Health Status and Contact with Health Services (70 minutes)

Maternal, Infant, and Congenital Coding (91 minutes)

Unraveling the FY 2024 ICD-10 Coding changes (151 minutes)

Final Exam (80 questions)
**A current ICD-10-CM Coding Manual is required, if you do not have an ICD-10 Coding Manual already, you can order the current manual here.***
Continuing Education
This course awards the following continuing education:
22.0 Contact Hours for Nurses & Administrators

Meets Criteria for 22.0 HCS-D Hours
*For access to this course for more than one user, bulk pricing and licensing options are available. Contact McBee today to customize your education needs.
                post-acuteacademy@mcbeeassociates.com
*Purchase term consists of 1 year (52 weeks) of access to the online modules. Access is limited to the purchaser only. Modules may not be recorded, reproduced, or redistributed without the express consent of McBee Associates.
No refunds.

Due to the sensitive nature of the course work, and the intangible nature of the product, McBee is not able to offer refunds on any course materials.